Fun Family Recipes to Make Outside
MAY 26, 2020 / LINDSEY SHANTZ /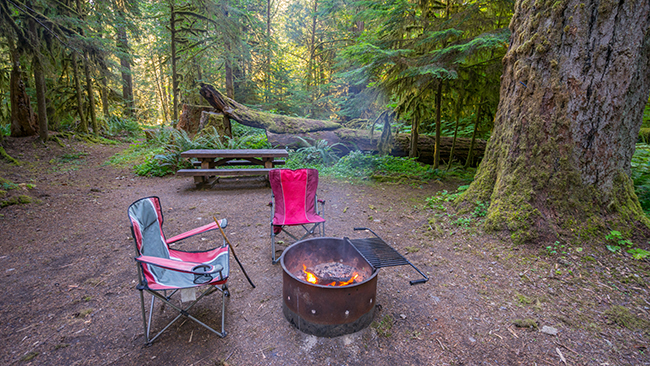 Every Memorial Day weekend we camp with a long-time group of friends to celebrate summer is almost here! We enjoy sunshine, good friends, shared conversations and some of the best meals together.
Like many of you our group plans were changed. The adults were just as disappointed as the kids. The backyard fire ring has taken the place of the campsite as we do our best to continue to enjoy the outdoors and nice weather.
I hope these outdoor cooking ideas add some fun and variety to your family's time at home. It would also be so much fun to deliver one of these meals or dessert kits to a friend or loved one, especially if they have kids.
This simple Hobo Dinner recipe uses seasoned ground beef, potatoes, carrots and onions. It can be made on a campfire, grill or in the oven. I especially like that foil packet dinners can be made ahead of time and each person can customize to his or her preferences.
This meal is easy to transport and clean up too. We have made these at home in the oven and when camping over a fire or grill. My kids label each packet with their name to be certain they receive their own custom creation.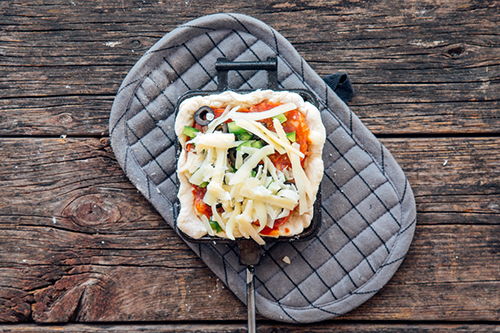 Pizza can be a campfire food too. Kids of all ages enjoy making their own pizza and selecting their favorite toppings. This Pizza Pocket recipe includes making the dough. You can also use store-bought dough or slices of bread. You will need a
pie iron
for this recipe.
This is a great meal for the first night of camping when you are setting up camp and need a simple dinner to please everyone. This recipe is easy to make in your backyard fire pit or grill. Serve with veggies and dip for a simple dinner.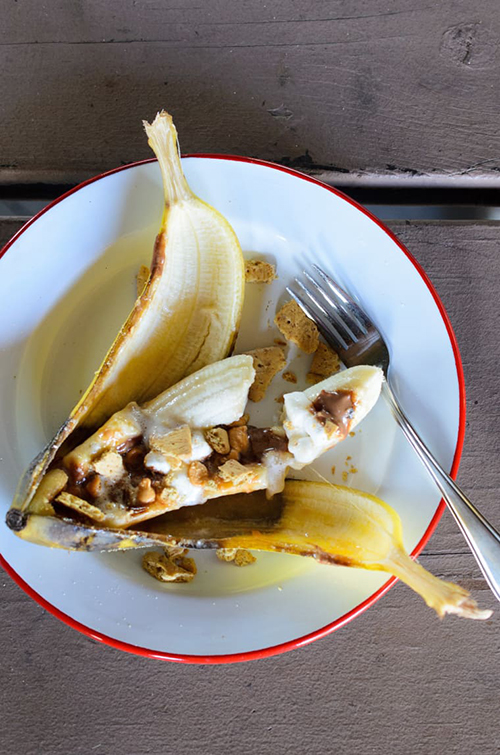 If you've never heard of this dessert you are in for a treat. This easy to make Banana Boat recipe starts with a ripe banana. First cut a slit in the skin on one side. Then, scoop out a little bit of the banana and stuff with marshmallows, chocolate, caramel chips or any other toppings to your liking.
Wrap with foil and cook over a fire or grill. My personal favorite topping to include is peanut butter.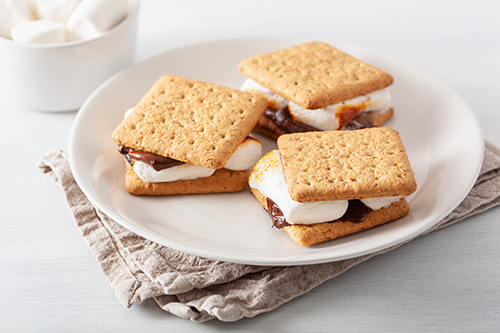 No list would be complete without including classic S'mores, my family's favorite camping treat! We have made S'mores over a fire, on a grill, in the oven and even in the microwave in a pinch.
Feel free to get creative and use what you have on hand. The possibilities are endless! Have a family contest to create your own unique combination of ingredients and declare a winner. A few of our favorite ingredients are:
Peanut butter cups
Fudge stripes cookies
Chocolate or cinnamon graham crackers
Mint or caramel chocolate bars
Peanut butter
Hazelnut cocoa spread
Strawberries, raspberries or blueberries
Deliver a S'mores or Banana Boat Kit
S'mores and banana boat ingredients can be easily packaged up as a kit and delivered to a family to make at their convenience. A change of pace and something out of the ordinary routine can bring smiles when needed. Kids will especially appreciate the gesture during this uncertain time.
Include an encouraging note and do a porch drop off and bring a smile to a family. Then go outside, enjoy the sunshine and make some memories!
Read other recent articles by Lindsey Shantz: